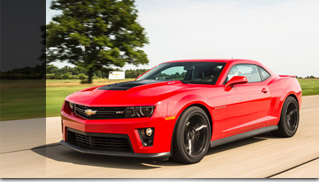 2016 Chevrolet Camaro won't look much different than the current generation model. However it will include an optional four cylinder engine. The car will also grow on size, meaning that Chevrolet won't utilize anymore the short-wheelbase version of Alpha from the Cadillac ATS, but rather – the long-wheelbase CTS.
In other words this will make the new Camaro 2.3 inches longer than the current, all in all – 114.6 inches. This means that it will be 7.5 inches longer than the 2015 Ford Mustang, but still shorter than the current Dodge Challenger.This will also contribute towards a lighter Camaro by several hundred pounds. This will probably make the engineers fit a smaller, entry-level engine to the coupe, such as the 2.0-liter turbocharged powertrain in the Cadillac ATS and CTS.
To remind you, this engine produces 272 horsepower (200 kW) and 400 Nm (295 pound-feet) of torque. Of course, there has been nothing said about discontinuation of the current 3.6-liter V-6 and 6.2-liter V-8 units. Actually, we are thinking about the 2015 Mustang's 2.3-liter EcoBoost engine, which is capable of more than 305 hp (2205 kW) and 407 Nm (300 lb-ft) of torque.
2016 Chevrolet Camaro is expected to make its official world premiere in the beginning of 2015 and to go on sale later that year.