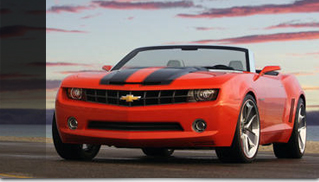 You may have heard about the upcoming convertible version of Chevrolet Camaro. The interesting things is that in all concept photos there is no top – it doesn't exist.
A repoty by Automotive News say that GM has awarded Magna the contract to build the Camaro convertible top with approx. 20,000 units annually. These  numbers lead us to a conclusion that GM hopes the Camaro convertible is going to be a successful version. If this production plan comes real, the Camaro Convertible would then join the Mustang as the best selling convertible in America.
However, GM has yet to officially confirm the Camaro Convertible for production – it is expected that a Camaro Convertible could arrive later this year as a 2011 model.
Musclevehicles.com – The Ultimate Blog for American Muscle Cars and Muscle Vehicles