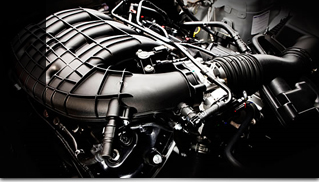 The Mustang story has always been connected with strong and athletic engines. And with the muscle you can find under the hood of the 2011 Mustang V6, Ford isn't just adding a new chapter -  it's even raising the bar on V6 power. This new "horse" is equiped with a combination of performance and fuel economy that cannot be beat.
The innovative Twin Independent Variable Cam Timing (TiVCT) technology is the beginning. This efficiently delivers power to the pony. The all-new 3.7–liter V6 turns out 305 horsepower with 280 lbs.–ft. torque using four valves per cylinder and TiVCT. And when all this power is projected to get 30 mpg hwy,* you know the 2011 Mustang V6 is destined to change the way we look at the V6 game.To crank out 305 hp with 30 mpg hwy, and deliver the truly amazing  feeling of a Mustang, the TiVCT V6 engine makes the most of its transfer of power from air, fuel and exhaust. And let's sum it – Mustang wouldn't be America's sports car if it didn't know how to harness power.
When all is said and done, this big new thinking comes together to produce numbers that will have everybody talking about the 2011 Mustang.
Musclevehicles.com – The Ultimate Blog for American Muscle Cars and Muscle Vehicles