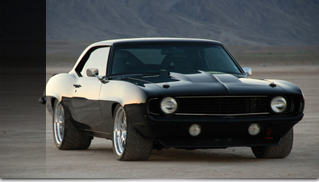 This muscle car is likely the most capable ZL-1 powered 1969 Camaro on the planet. To take it one step further, likely the most capable ZL-1 powered car, period. The owner took a great heritage of the ZL-1 and surrounded it with the best money can buy. The engine was built by one of the most reputable engine builders on the West coast from scratch with this exact application in mind. As you are about to see, everything on this car is top shelf and some of the best shops and manufacturers in the industry have been called on to contribute to the finished product. 
This car has been sorted out extensively on the road and track. You can literally call it a car show, road race, autocross, drag race, and drive to and from the track in one weekend in this car. While it's a dominator on the track, it has the modern sports car feel on the road we all desire. The ride, brakes, and steering are phenomenal. The handling and braking is a couple rungs up the ladder. It's got unbelievable linear power but it will lope down the interstate at 1800 rpm in overdrive with the AC on and tunes blasting. It's been tested to take any curve ball you can throw at it. It has proved to be extremely reliable with no mechanical failures of any type on the road or track after the ZL-1 was installed. Read more!
This car doesn't just talk the talk, it walks the walk. Not only does it look great, it performs! It runs 0-100-0 in the 13 second range which is Corvette ZR1/Z06 & Dodge Viper territory. It also runs in the 11's down the quarter mile. However, this car really shines in the handling department. This is the ultimate litmus test for a pro touring car. Check out some of the features :
Accolades
· Optima Ultimate Street Car Invitational on Speed TV(2010)
· SEMA(2010)
· Super Chevy Magazine Feature Car(Coming Soon)
· Camaro Performers Magazine(2010,2011)
· Car Craft Magazine(2010)
· Super Chevy Show Winner(2011)
· Lateral-G Feature Car(2010)
The Start
The owner started with a very clean complete 307 survivor with less than 100,000 miles on the clock. Believe it or not, he picked this car up in Michigan and it was clean due to its inactivity. The owner stored it in his Mom's garage for nearly 20 years and barely drove it. He kept all the original GM metal with the exception of the front fascia that had been replaced sometime in its life. The owner also added an aftermarket cowl hood for air cleaner clearance. 
Body
Prodigy Customs in Florida did the dirty work. They took the complete car down to bare metal. They blocked the car out until it was flat as a board and then they sprayed it with base coat/clear coat Glasurit paint. It's a very dark black and it's got great depth and shine. The car got more compliments on the paint job than anything else.
They also added Detroit Speed & Engineering subframe connectors and mini tubs. A 4 point roll bar was added for structural rigidity and safety. It's stiffer than a C6 vette. The firewall was shaved for a super clean look.
Engine(ZL-1 has roughly 3500 miles on the clock)
The heart of the beast is a custom built 489 Big Block ZL1 by Pettis Performance. Pettis Performance is based in Southern, CA and has a bullet proof reputation for building big, reliable horsepower. This engine is loaded with the best components available:

· GMPP ZL1 Aluminum Block (110 lbs)
· Callies Forged Crank Shaft
· Manley H Beam Rods
· JE Forged Pistons
· Total Seal Rings
· Dart Pro 1 Heads(Custom Pettis Performance Port Work)
· Manton Pushrods
· Comp Roller Rockers
· Dart Stud Girdle
· Comp Solid Roller with Cast Iron Gear(For street longevity)
· ISKY EZX Roller Lifters(No Needles)
· Edelbrock Air Gap Intake
· AED Holley 850 Double Pumper(Road Race Floats & Jet Extensions)
· Melling High Volume Oil Pump
· Custom Windage Tray Setup
· Milodon 8 Quart Road Racing Pan
· ATI Harmonic Balancer
· Edelbrock Victor Jr. Water Pump
· March Performance Serpentine Accessory System
· MSD Pro Billet Distributor(With GM Melonized Gear)
· Moroso Fabricated Valve Covers
· Milodon Timing Cover
This engine is built with the intended application in mind. A power plant that was happy to idle all day long, enjoyed freeway cruising in high gear, but would pull to 6,800 rpm(Redline) like it's pissed off! It makes 666 hp at 6200 rpm and 641 ftlbs at 4700. It makes some serious average power. Pettis Performance nailed it! 
Driveline
With all the power the ZL1 makes, the car needs a bullet proof driveline. 

· Quicktime SFI blow proof bellhousing
· McLeod SFI 14lb Aluminum Flyhweel(For quick revs and rpm matching)
· McLeod Twin Disk RXT Clutch(Rated at 1000 hp)
· TKO600 modified with carbon fiber synchronizers and pro 5.0 shifter
· Inland Empire 3.5" Aluminum Balanced Driveshaft
· Moser 3.73 12 bolt with bolt in big ford ends, 33 spline axles, and true trac carrier, aluminum girdle
All of these parts have proven to be a reliable combination.
Chassis
Front:
Detroit Speed & Engineering Hydroformed Subframe (Modern GM Frame Technology)
· Tubular Control Arms
· Splined Sway Bar
· Rack & Pinion Steering
· Dual Adjustable Afco Shocks
· Hyperco Springs
Rear:
Ridetech Triangulated 4 Link
· Afco Dual Adjustable Shocks(With jounce bumpers)
· Kevlar Impregnated End Links
· Hyperco Springs
· Reinforced Frame Rails
Wheels & Tires(Less than 50 miles on this set)
Formula 43 Custom Lightweight Forged Wheels-Made in the USA!
Front:
· 3 Piece 18×10 
· 295/30/18 Toyo R888
Rear:
· 3 Piece 18×12
· 335/30/18 Toyo R888
Brakes
Wilwood Polished 1" Bore Master Cylinder
Custom Bent 3/16" Brake Lines
Braided Brake Hoses
Wilwood High Temperature Fluid
Front:
· Wilwood Superlite 6 Piston Calipers
· 13" Slotted Rotors
· Pads best suited for all applications
Rear:
· Wilwood D154 Floating 2 Piston Caliper
· 12.2" Slotted Rotors
· Internal Drum Parking Brake 
· Pads best suited for all applications
· Absolutely NO Knockback
Interior
· 1969 Deluxe Interior 
· Detroit Speed & Engineering Dash Insert
· Autometer Sport Comp II Gauges(Speedo, Tachometer, Water Temp, Oil Temp, Oil Pressure, Voltage)
· Sparco Chrono Road Seats
· Sparco Steering Wheel(Suede Insert)
· Ididit Tilt Steering Column
· Custom Made Rear Seat
· 3 Point Seat Belts(Driver/Passenger)
· 5 Point Race Belts(Driver)
· Dynamat & Second Skin sound deadener
· Second Skin Heat Wave Pro(For heat reduction)Cool cockpit in extreme conditions
Findlay Customs was contracted to polish off the interior.
Heating & Air Conditioning
Vintage Air Gen IV System with Sanden Compressor (Newest System)
Electrical System
Countless hours have been spent making the wiring sanitary. 
· Freshly Wired with a Complete American Autowire Kit
· Optima Red Top
· Master Cut Off Switch
· Custom Quality Battery Cables
· Engine to Body Ground Strap
· Delphi Water Proof Connections
· Soldered and Shrink Wrap Connections
Fuel System
· Return Style System
· Ricks 18 Gallon Stainless Steel Tank
· Mallory 140 GPH Fuel Pump
· Aluminum ½ Fuel Line
· -10 & -8 AN Braided Hose/Fittings
· Holley Return Regulator
· Aeromotive 100 Micron Fuel Filter
· BG 8 Micron Fuel Filter
· Rollover Cut Off Switch
Exhaust
· Custom Lemons Headers (2 1/8" Primary/3.5" Collector)
· Coated Headers
· V Band Clamps
· 3" Magnaflow Stainless Pipes/Mufflers/X Pipe
Sound System
· Alpine Head Unit with IPOD Cord
· JL 1000 Watt Amp
· 7 Speaker JL System
· Custom Subwoofer Enclosure that Ports Through Back Dash
· 10" Subwoofer
Miscellaneous Systems
· 3 Quart Engine Accumulator(To prevent oil starvation under high g load)
· 52 Row Engine Oil Cooler(To reduce oil temperatures under extreme conditions)
· Earls Oil Thermostat(To regulate engine oil temperature)
· PRC Dual Pass Aluminum Radiator with Dual 13" Spal Fans(3500 CFM)
· Turn One Power Steering Pump with Remote Tank(To prevent loss of power steering in extreme conditions)
· Dual -12AN Engine Breather System into Moroso Catch Cans(Eliminates the mess from crankcase evacuation)
· Custom Breather Tank Set Up for Gas Tank/Rear End(To control heat expansion and retain fuel/fluid)
· Smoked Window Glass Kit
· Front Tow Hook(Legal on road course)
· Rear Tow Hooks(Legal on road course and great tie down in trailer)
Bling
· Ring Brothers Black Anodize Hood Hinges
· Ring Brother Black Anodize Hood Pins
· Marquez Design Black Anodize Tail Lights
· Twist Machine Black Anodize Fender Braces