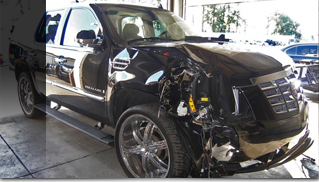 Some people call this car crash the most expensive one in history. What's more – Tiger Woods has lost millions of dollars from sponsors who dropped or limited their use of his likeness in their marketing after news of his affairs. What's next – General Motors has restricted their sponsorship.
After the accident in November in which he crashed a Cadillac Escalade, registered to G.M., outside his home in Florida his problems emerged. USA Today reported on Tuesday that General Motors ended the agreement with Tiger Woods two weeks ago. Dayna Hart, a spokeswoman for Buick, confirmed the news on Wednesday: "Our loan arrangement with him was contracted to end Dec. 31, 2009."
Here are some pictures of the crashed GM provided by The Florida Highway Patrol. The vehicle driven by Tiger Woods during his accident is seen on December 2, 2009 in Orlando, Florida. Woods crashed the SUV into the fire hydrant and tree next to his Florida home in the early hours of November 27. FHP charged Woods with careless driving which carries a $164 fine and four points on his driving record. Woods released a statement on his website saying, 'I have let my family down and I regret those transgressions with all of my heart'.
Musclevehicles.com – The Ultimate Blog for American Muscle Cars and Muscle Vehicles
(Photo by Florida Highway Patrol via Getty Images)