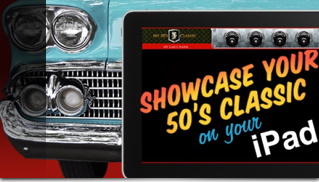 Hello, folks! Today's article will be about a great and original iPad app. Yes, that's right – we'll review the innovative and the first-of-its-kind My 50′s Classic iPad app by Intersekt Studios LLC. Long story short, this piece of software is incredible – it's probably the easiest way to relive the decades of stories and details about your 50′s classic in style. And if the Intersekt Studios LLC doesn't ring a bell, the guy who's behind the My 50′s Classic app is a proud third-generation owner of a 1955 Thunderbird. His idea was a labor of love, taken from the heart, and made into an App that you can use for your cherished classic. Sounds like a dream come true, huh?
The featured app will keep track of your car's history by chronicling the events that give your car its distinctive character, photos and notable outings in addition to the mechanical history of the car. We all know that what makes many classic cars so special is the stories associated with them, and this is a way for owners to do that.
Just imagine a stunning photo gallery of your classic car that goes anywhere your iPad goes!  Is there a better way to showcase your ride and easily impress your friends, colleagues, or other car enthusiasts? What's more, you can link the photos to the events timeline, so you can click through for more details on where and when photos were taken. And if this is not enough, then what about creating and updating a detailed maintenance log? You can save important details to the specs page, name your classic car, etc. At the end you'll get a complete and interactive record, that'll be as unique, as your car. Read more!