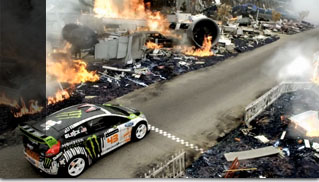 DEARBORN, Mich., Aug. 25, 2011 – Ken Block is known as a trendsetter, certainly when it comes to his on-the-edge driving. Be it in the World Rally Championship or in his recently released Gymkhana FOUR video on YouTube, he is ahead of the curve. Now, Block and the Monster World Rally Team are on the leading edge of technology as their multidiscipline rally H.F.H.V. (Hybrid Function Hoon Vehicle) Ford Fiesta is equipped with Ford SYNC®.
Block's Fiesta is the first competition-ready car armed with Ford SYNC, which allows him to enjoy a wide array of award-winning in-car connectivity and communications features including hands-free, voice-activated calling and turn-by-turn directions as well as the ability to play his favorite music via Pandora.
"I love my new Ford Fiesta H.F.H.V. race car because it's one of the most unique competition race cars on the planet and is capable of doing many different styles of driving. One unique feature of this car is that it still has SYNC hooked up inside. So whenever I'm transitioning between rally stages or just driving around town, I'm able to make phone calls, have my texts read to me, look up businesses and listen to my favorite driving songs – it's awesome!"
Ford SYNC will not replace Block's longtime co-driver Alex Gelsomino, as use of the turn-by-turn direction capability is not legal for rally competition. However, it can help Block find the Parc Expose or the MWRT paddock service area in his street-legal Fiesta. Read more and watch the video of Gymkhana FOUR!