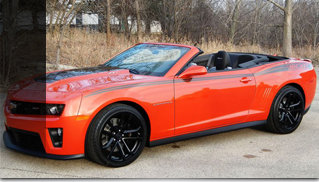 What we got here is a 2013 NicKey ZL-1 Camaro Convertible Stage II 850hp serial #001!! This baby is built by NicKey Chicago of St. Charles, Illinios, known as "The Original Super Car Headquarters".
NicKey Chevrolet started building Super Camaros for the 1967 model year.  These were cars the factory would not dare build! These were the ultimate performance vehicles which could be driven right off the dealer's showroom floor. Today they have become some of the most valuable, coveted Muscle Cars of all time.
Flash forward a few decades and here they are once again building cars that you cannot get from GM! Their stage I ZL1 Convertible starts at 700hp. This NicKey Super Camaro Features NicKey ZL-1 Stage II, 800 hp plus+ package! Click on Read more!