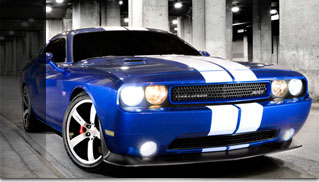 Speed and Agility of 2011 Dodge Challenger SRT8 392 to be Showcased During Upcoming One Lap of America
April 27, 2011 , Auburn Hills, Mich. – The Dodge brand and Chrysler Group's Street and Racing Technology (SRT) team are joining forces for a return to the Tire Rack One Lap of America competition sponsored by Motor Trend magazine.
After a two-year hiatus, a stock 2011 Dodge Challenger SRT8 392, driven by SRT engineers Erich Heuschele and Adam Forte, will compete in the SSGT2 Big Bore class, beginning on Saturday, April 30, 2011, at Tire Rack's test track in South Bend, Ind.
A test of both driver and vehicle endurance, the weeklong competition features more than 70 vehicle entrants that will travel more than 3,500 miles from venue to venue in addition to running various timed events at 10 venues. Read more!