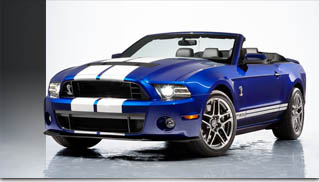 CHICAGO, Feb. 8, 2012 – The official launch of SVT came during the 1992 Chicago Auto Show with the unveiling of the 1993 SVT Mustang Cobra and SVT F-150 Lightning. Now Ford returns to Chicago to celebrate its past and look to the future with the 2013 Shelby GT500 convertible.
In honor of SVT's anniversary, a commemorative lighted sill plate will be used in the 2013 Shelby GT500 to celebrate the many years of performance vehicles. The 1993 SVT Mustang Cobra offered a 235-horsepower 5.0-liter V8 engine, which demonstrates just how far the products have come in 20 years. The 2013 Shelby GT500 with its 650-horsepower V8 marks the latest offering from one of the oldest and most successful automotive performance groups in the world.
"The Shelby GT500 convertible is every bit the performer that the coupe is," said Kerry Baldori, SVT Global Performance Vehicles chief engineer. "All of the significant changes we made in the program were instrumental in delivering a convertible that could really shine on the track but can still be driven on a daily basis." Read more and see gallery!