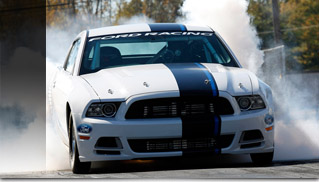 HOTTEST CAR, SPORT COMPACT, TRUCK AND 4×4-SUV ANNOUNCED AT THE 2012 SEMA SHOW
— Ford Mustang, Scion FR-S, Ford F-Series and Jeep Wrangler Named 2012 SEMA Award Winners –
This year's SEMA Award for the top trending vehicle models in four categories were announced today at the SEMA Show in Las Vegas. The Ford Mustang was named Hottest Car, the Scion FR-S took the Hottest Sport Compact honors, the Ford F-Series won Hottest Truck and the Jeep Wrangler received the Hottest 4×4-SUV award.
"The SEMA Show has always been about innovative products and trends," said Chris Kersting, SEMA president and CEO. "The SEMA Award amplifies the industry's special ability to identify and set trends that consumers follow."
The SEMA Award recognizes vehicle models that specialty-equipment manufacturers believe are the best platforms for accessorization and that showcase the year's coolest products. It also underscores the cooperative relationship between the automakers and SEMA-member companies. Read more!