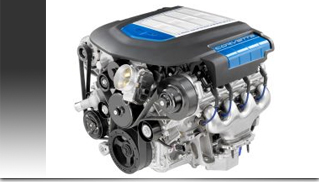 For 58 of its 60 years, the Chevrolet Corvette has been powered by the legendary Chevrolet V-8 engine. Technological advancements have increased output threefold – from 195 hp in 1955 to 638 hp today – as well as reliability, refinement and efficiency.
However, the fundamental architecture of the Chevrolet "Small Block" remains the same today as it was in 1955: a 90-degree V-8, with overhead valves actuated by pushrods, and a 4.4-inch on-center bore spacing.
"The brilliance of the Chevrolet V-8 is its elegant, efficient design," said Jordan Lee, global chief engineer for Small Block Engines. "The Chevy V-8 has fewer reciprocating parts, and is very efficient and has one of the best power-to-weight ratios of any engine family in the industry. The design is incredibly compact, enabling the Corvette's signature sleek profile and low hood line."
Despite a sporty appearance, the early Corvettes' performance didn't match their good looks. The car launched in 1953 with the "Blue Flame" inline six-cylinder engine and a two-speed automatic transmission – not exactly the stuff on which to build a sports car legend. That changed in 1955, when the new small-block V-8 engine became available and was ordered by 99 percent of Corvette buyers. Read more!