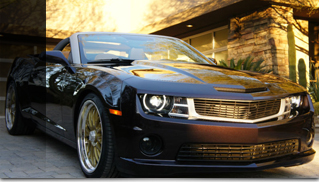 Originally there were to be 100 Neiman Marcus Edition Camaro's built. That was the idea from the Neiman Marcus Christmas Catalog, page 44, in 2010. To get one you had to call an (800) number on October 19th 2010 at 12:00 E.S.T. and cross your fingers. All 100, were "snapped up", in under 3 minutes.
They were to be delivered in April 2011 but that didn't happen. Those of on the list were informed in March 2011 that they would be delayed till mid-Summer, 2011. Once they were built and shipped, only 75 of these cars were built in total (30 Manual and 45 Automatic transmissions). There was no actual explanation as to why the additional 25 were not built.
This one was built on July 5th, 2011 and was the 12th one produced. They were shipped in enclosed trucks. Each of these cars has their very own Birth Certificate as well as a window sticker with a M.S.R.P. of $75,000. Aside from the COPO Camaro, these are the rarest of
the 5th Generation Camaro's made. This guy over here spoke to the actual company that painted the cars for G.M. in Michigan. He got ahold of them to see if he could get some of the paint they used so he could paint the rear difusser the same as the body. They were very helpful. The person he spoke to said G.M. asked him to paint a dozen cars then they wanted to see them in person. When they did see the cars, they said the paint was too perfect. Click on read more for more!