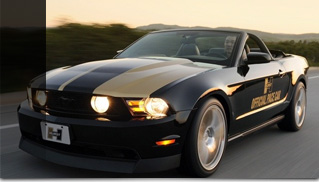 2010 Hurst Ford Racing Mustang Challenge Pace Car to DEBUT at Virginia international raceway on april 25
Highly Collectible Pace Car to Benefit the Austin Hatcher Foundation for Pediatric Cancer
Irvine, Calif. (April 20, 2010) – Hurst Performance Vehicles, a company responsible for some of the most iconic pace cars in racing history, will once again debut a special-edition Mustang built to serve as the official pace car for the 2010 Ford Racing Mustang Challenge Series.
The 2010 Hurst Mustang pace car will debut during the Ford Racing Mustang Challenge race at Virginia International Raceway on April 25, 2010.
After its run with the Ford Racing Mustang Challenge, this unique and highly-collectible Pace Car will make special appearances at the Hot Rod Power Tour, at numerous Larry H. Miller dealerships across the country and even at SEMA, before being auctioned for charity in January 2011. Proceeds of the auction will benefit the Austin Hatcher Foundation for Pediatric Cancer, formed to support research towards the diagnosis, treatment and development of a cure for pediatric cancer, and to provide support and hope to children and families undergoing treatment, as well as those who have lost children due to cancer. Through Hatch's house of hope, the Austin Hatcher Foundation provides a landmark group of educational, emotional and social skills development programs essential to help cancer stricken children and their families succeed within their community.
Additionally, the 2010 Hurst pace car's paint scheme and likeness will be used to create promotional items sold by the Ford Racing Mustang Challenge Series at various race events and online, including a run of limited edition replica skins for their Miller Cup Pinewood Car kits. As one of several ongoing initiatives to support the Austin Hatcher Foundation, Mustang Challenge has integrated a fund-raising Miller Cup Pinewood Derby car race into the season-ending championship banquet at Miller Motorsports Park.