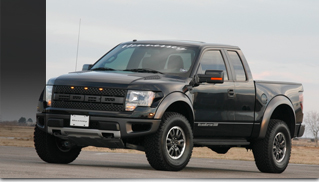 We present you the Hennessey VelociRaptor.
The main aspect of this beautiful tuning project is power. Hennessey has put a Whipple supercharger onto the Raptor's 5.4-liter V8 and produced 501 hp @ 5,100 rpm with the incredible 520 pound-feet of torque @ 3,200 rpm). Let's add the boost – 9.1 pounds, a K&N intake, upgraded fuel injectors, a stainless steel exhaust and headers, and tuned up ECU – the final result is a real muscle beast with 0-60 time of 5.6 seconds, taking the 1/4 mile in 14.1 seconds at 97 mph.
Hennessey is aiming at 100 VelociRaptors per year. The price of the Hennessey-installed solution is $14,995, which includes a one-year warranty. See the full specs and a video of this muscle "car" after the jump.