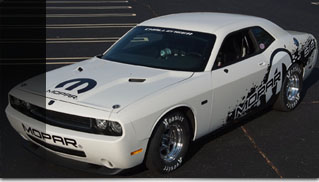 Dave Thomas Sets NHRA AA/SA ET, MPH Records in Mopar Challenger V-10 Drag Pak
AUBURN HILLS, Mich., April 8, 2011
* Thomas sets record with a 9.43/143.90 pass in his 2011 Mopar Challenger Drag Pak
* Mopar Challenger V-10 Drag Pak built for sanctioned NHRA Stock and Super Stock configurations
* Mopar offers the only factory-built, V-10 powered race-ready package car

Less than one month after making its competition debut, the 2011 Mopar® Challenger V-10 Drag Pak is already rewriting the NHRA record books.
Dave Thomas, of Westchester, Pa., powered his 2011 Mopar Challenger V-10 Drag Pak to a record-setting 9.43-second elapsed time (ET) at 143.90 mph during a test session on Thursday, April 7 at the NHRA Division 1 National Open event at Atco (N.J.) Raceway (the test session allowed for record attempts). Thomas captured both the ET and mph records in the AA/SA class just two weeks after taking ownership of his Mopar Drag Pak, and with only a few passes under his belt in the new V-10-powered beast. Read more!