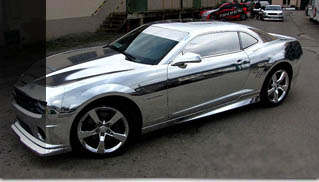 We've seen our fair share of chromed cars – everything from an Audi R8 V10 to a Lamborghini Murcielago Roadster – but here's something American – a real muscle car.
Talk about a flashy Camaro, literally! Vinyl wraps have been all the rage in the aftermarket, allowing car owners to change up their car's color completely and unlimited times, but also 100% reversible. The Czech guys from Tintek.cz – specialist in wrapping sports cars – are back with a new chrome vinyl. They outfitted the vinyl to a Chevrolet Camaro SS and an Audi TT.
Tintek says the Camaro is the first chrome application of this kind in the Czech Republic, as the effect is not obtained by painting the car but by applying a special 3-D foil over the original paintwork. They also offer the chrome effect in gold, black, green, blue, orange, red and violet. This is what I call an original tuning project! Check out the video on Read more!