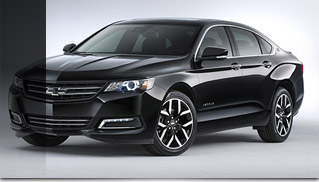 The 2015 Chevrolet Impala has established itself in the market as one of the most desirable cars of 2014. Winning the Cars.com Best Car of 2014 and one of Kelley Blue Book's 12 Best Family Cars for 2014 is testimony for its supremacy and superb qualities. Being reworked one year ago, the model definitely leaves imprints that future models will follow.
Power is generated from a 3.6L V-6 engine which develops 305 HP (227 kW) and 358 Nm (264 lb-ft) of torque. This is the most powerful naturally aspirated V-6 engine in the segment.
The Impala Blackout concept is perhaps the most genuine and expressive version which shows off the aggressiveness of the car. Having bespoke styling with blacked-out hints, the overall look of this machine unleashes itself as something that would suit the nature of Maleficent.