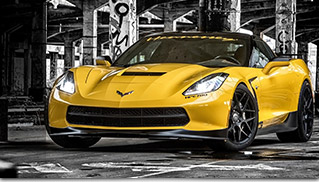 With 708hp and maximum torque this Corvette does its name credit, and catapults the already factory good motorized 7th generation Corvette in the league of the supercars.
Since Guido Rüffer decided to optimize American cars, none of the vehicles have left his holy halls with less than 540hp.
Dodge Ram RP540, Ford Mustang, Jeep SRT8 RP600 and RP700, and as highlight, the Camaro RP1000, all got their substantial extra portion of power and torque.