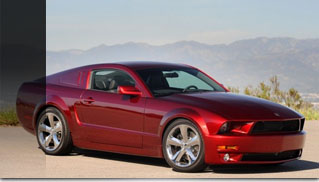 The guys at Mustangsdaily.com took exclusive pictures of the Iacocca Mustangs that came out of Metalcrafters facility. These two mustangs were painted in Candy Apple Red and Black, both of which were custom ordered by Galpin Ford for their own private collection. As they say, Galpin was kind enough to take the red Iacocca Mustang out of their collection for a photoshoot. Enjoy the exclusive images by Mustangsdaily.com.
LEE IACOCCA UNVEILS LIMITED EDITION MUSTANG
Car Celebrates 45 Years of Muscle and Magic
Forty-five years after he introduced the original Ford Mustang, launched at a dramatic press conference at the 1964 New York World's Fair, auto industry visionary Lee Iacocca today announced a new version of the famous muscle car – the Iacocca Silver 45th Anniversary Edition Ford Mustang – a breathtaking vehicle that utilizes the latest in Ford performance technology with a style and panache that screams, Mustang fastback. Only 45 "2009½" Iacocca Silver Edition Mustangs – all painted a special "Iacocca" chosen silver hue – will be built. Read more!