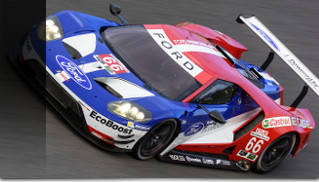 Ford Chip Ganassi Racing officially announced today the four drivers who will compete in the all-new Ford GT for the 2016 IMSA WeatherTech SportsCar Championship.
Drivers Ryan Briscoe, Richard Westbrook, Dirk Müller and Joey Hand have been selected for full-time rides in the two Ford GTs that will compete in the full IMSA WeatherTech schedule next year.
Hand and Müller will co-drive the No. 66 Ford GT, while Briscoe and Westbrook take the reins of the No. 67 Ford GT. Fans of Ford lore and sports car racing will immediately take note of the historic significance of the car numbers – the original predecessor of the Ford GT, the Ford GT-40, won the 24 Hours of Le Mans in 1966 and 1967. Ford marks the 50th anniversary of that first significant win with the return of the Ford GT to Le Mans in 2016.