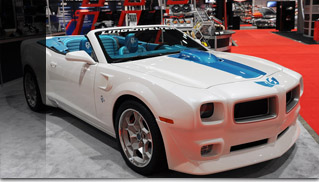 Lingenfelter Performance Engineering (LPE) has turned their LTA concept car into reality by debuting the first production Lingenfelter LTA at the 2012 SEMA Show.
Lingenfelter announces they will build a limited quantity of Lingenfelter LTA vehicles for eager customers to purchase starting this year. Initially developed to evoke the muscle car styling from the past combined with Lingenfelter's latest technologies, the Lingenfelter LTA has been a hit in collector car circles and enthusiast crowds across the country.
"Due to overwhelming response after displaying conceptual versions of the LTA at previous SEMA Shows and other events, Lingenfelter has decided to take the car to production," said Ken Lingenfelter, owner of Lingenfelter Performance Engineering. "As a long-time admirer of the Firebird Super Duty, I initially wanted to build this car to celebrate and improve upon that special brand. After gauging the reactions of interested customers, we learned many enthusiasts share our passion for these eye-catching performance vehicles. And after thousands of inquiries, Lingenfelter determined we had to build limited quantities of the Lingenfelter LTA." Read more!