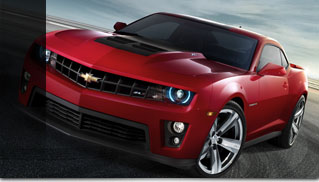 Camaro ZL1 Delivers 580 Horsepower and Exclusive Technologies
- Supercharged, 6.2L LSA V-8 delivers 580 horsepower (432 kW) and 556 lb.-ft. of torque (754 Nm)
- ZL1 power complemented by exclusive Magnetic Ride Control and Performance Traction Management
- Track-capable standard equipment includes high-performance fuel system, as well as engine, transmission and differential coolers
DETROIT – The 2012 Chevrolet Camaro ZL1′s supercharged 6.2L engine is SAE-rated at 580 horsepower (432 kW) and 556 lb.-ft. of torque (754 Nm) – making it the most-powerful production Camaro ever.
The ZL1′s outstanding power is complemented by advanced powertrain and chassis technologies, including exclusive Performance Traction Management and third-generation Magnetic Ride Control.
"The Camaro ZL1 delivers supercar performance and technology in the sports-car segment," said Al Oppenheiser, Camaro chief engineer. "For sheer power, the ZL1 delivers more horsepower than a Ferrari 458, more torque than an Aston Martin DB9 V12, and a better power-to-weight ratio than a Porsche 911 Carrera GTS.
"The Camaro ZL1 also features exclusive chassis and traction technologies," Oppenheiser said, "to offer the best of all worlds – including balanced handling for the track, acceleration for a drag strip, and the comfort of a daily driver." Read more!