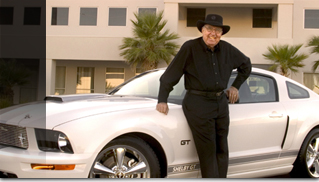 We, at MuscleVehicles – The Muscle Cars Blog are sorry to say that Carroll Shelby, Automotive Legend passed away. He indeed was a legend. Here is the official statement, which is attributable to Edsel B. Ford II, member of the Board of Directors of Ford Motor Company and great-grandson of Henry Ford, founder of Ford Motor Company.:
Carroll Shelby, Automotive Legend Dies
Carroll Shelby, Ford Family for More Than Half a Century
"Today, we have lost a legend in Ford Motor Company's history, and my family and I have lost a dear friend. Carroll Shelby is one of the most recognized names in performance car history, and he's been successful at everything he's done. Whether helping Ford dominate the 1960s racing scene or building some of the most famous Mustangs, his enthusiasm and passion for great automobiles over six decades has truly inspired everyone who worked with him. He was a great innovator whose legend at Ford never will be forgotten. Our thoughts and prayers go out to his family and friends."
Read more..