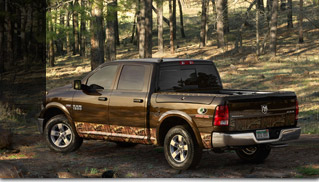 2014 Ram 1500 Mossy Oak Edition will add more exclusivity to Ram's Line-up. The vehicle has been updated for MY2014 and will be offered for the first time with the RamBox cargo management system, in both 6-ft.-4-in. and 5-ft.-7-in. bed lengths.
Mossy Oak Edition was originally introduced to the Ram Truck family back in 2011 with the aim to capture the hearts of those who are passionate about the great outdoors, hunting and fishing. In fact, Ram 1500 owner demographics illustrate a love for the outdoors.
The numbers are the following: 30 percent hunt, 44 percent fish, 27 percent are boaters and 42 percent are campers. To go further into details, what makes this edition so special is the camouflage cover.