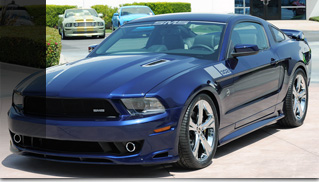 Corona, California. (April 16, 2010) On the day before the 46th anniversary of the debut of the Ford Mustang, which was launched on April 17, 1964, Steve Saleen, the man whose name has become synonymous with high performance Mustangs, launched his most eagerly awaited SMS Signature Series cars, the 2011 SMS 302 Mustang.
SMS Supercars President and CEO Steve Saleen says: "Many automotive enthusiasts have embraced our SMS 570 Challenger, but I know our core fans have been waiting for the first Mustang to come from the new company, SMS Supercars. I am thrilled to be able to end the suspense today. With the new 5.0L 2011 Mustang arriving at dealerships shortly, it was appropriate for us to act swiftly and present our SMS 302 Mustang based on this early model year change. We know the 302 name will excite any Mustang fan as well".
After the successful launch of the 2010 SMS 570 Challenger in the Spring of 2009, the 2011 SMS 302 Mustang represents the second in the trio of SMS American Supercars, which will be followed by the introduction of the 2011 SMS 620 Camaro later this year. At first, two SMS 302 versions will be offered, the SMS 302 4V with a normally aspirated 5.0L engine, followed by the SMS 302 SC, using the patented SMS 296 Supercharger.