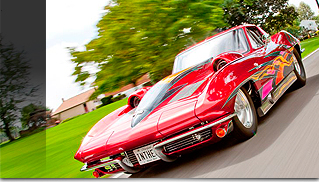 Check out this incredible 1963 Chevrolet Corvette – it's the World's Fastest street legal corvette out there! It's a once-in-a-lifetime project, that took more than 5 years and realized by Rod Saboury. But let's get straight to the point – enjoy this mean machine, read the full article and check out the 100+ images in the gallery!
Design and Construction
The 5-year project was started in 2001. In the first 2 years, drawings, schematics, adherence to drag racing rules and local motor vehicle requirements were foremost in the preliminary design. Finding the correct car was also at the top of the "To Do" list. When the car was eventually found, it was delivered to Rod as a shell on a wooden pallet with no frame, the original VIN tags, clear title and a price tag of $800…It was Perfect!
The body was sent to long time friend and fiberglass guru Frank Morawski where the body was stretched 12 inches in three places to maintain proportions. It was widened 3 inches in the rear, the quarter panels were raised 2 inches, a rear wing was recessed into the body and a functioning trunk was created that looked like it came from the GM factory. Overall, it was no easy feat requiring hundreds of man-hours. Great Job Frank. Read more!