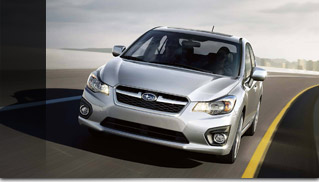 Subaru is bringing production of its popular Impreza model to the US by pumping $400 million into its plant in Lafayette, IN. The company will begin producing the Impreza in 2016 by way of this plant.
This expansion involves an increase in the physical space of the plant, the installation of new equipment, and the hiring of new employees. The automobile production facility, which is known as Subaru Indiana Automotive (SIA), currently produces the Subaru Tribeca, Outback, and Legacy models. Its output is around 200,000 of these vehicles per year. The expansion effort involves both the building of a new paint plant, and the modification of the vehicle assembly line to produce more vehicles. This expansion, which will increase the plant's total square footage by about over 500,000 square feet, will result in the plant's being able to produce about 100,000 more vehicles per year.
The Subaru Impreza is currently produced in Subaru's domestic Gunma and Yajima plants. The car is popular in the Canadian market but has yet to see a large scale presence in the North American market. Shiro Ohta, the CEO of Subaru Canada, Inc., says that the compact car has enjoyed success in the Canadian market because it fulfills or exceeds Canadian compact car expectations. Subaru has every hope that the car will be a hit in the United States as well, and according to the manager we spoke to at the Tindol Subaru dealership in NC, the popularity of Impreza's among his customer's have not only remained fairly strong, but have also grown in the recent years.
Subaru, which has hitherto had only a small percentage of the market share in the U.S., is climbing steadily. It has recently seen record sales and has begun to expand into new markets and marketing tactics. It is currently already in the process of a construction effort that will increase the production capacity of SIA by 24,000 vehicles per year. This project will cost Subaru $75,000. The larger expansion discussed above will begin in the fall and is scheduled for completion by 2016.
Subaru seems to be entering a whole new phase of its evolution. These large construction efforts are geared toward handling the greater demand that Subaru feels confident it will soon encounter in the U.S. If current statistics are to be trusted, Subaru is warranted in banking on the future in a large and enterprising way.