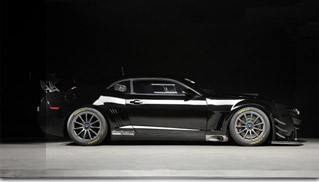 Reiter Engineering will bring its Chevrolet Camaro GT3 at the Blancpain Endurance Series in Monza. In fact, behind the steering wheel of the car will be the experienced trio of Peter Kox, Tomas Enge and Albert von Thurn und Taxis.
In this project, the German tuning enhancers wanted to merge the American Muscle with German know-how engineering, and this was the initial goal. This is how the GT3-version of the Chevrolet Camaro was born.
The American muscle beast sports a massive 7.9 litre V8 powertrain which has been thoroughly tested by the team's regular squad of drivers (mentioned above). Oliver Gavin, who is a General Motors works driver, also sat behind the wheel of the machine, to further advance its competitiveness.
Other improvements here include full body kit, improved brakes, suspension and stripped interior. There are also racing added wheels and tires for maximum traction. The tuning specialists also have revealed that they are excited to get finally involved in the Blancpain GT Series.
Source: Reiter Engineering