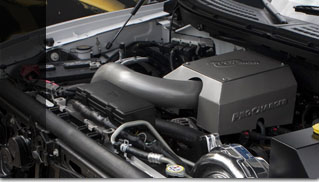 Building on their 16+ year history and expertise in supercharging Ford engines, ProCharger is proud to announce availability of High Output Intercooled Supercharger System and Tuner Kit for 5.4L and 6.2L Ford F-150 SVT Raptor trucks. Both the 100 percent complete HO Intercooled System and Tuner Kit are available now through ProCharger dealers across the US and Canada.
Utilizing the patented and proven, self-contained ProCharger centrifugal supercharger making 8-9 psi of boost, both the 5.4L 3V and 6.2L engines respond very well to ProCharger's intercooled forced-induction solution. Using a ProCharger D-1SC supercharger and large, front-mounted air-to-air intercooler, 6.2L Raptors make more than 600 horsepower and outstanding torque on high quality pump gas, while Raptors equipped with the 5.4L 3V engine use a P-1SC-1 supercharger to produce more than 500 horsepower.
Thanks to the proven supercharger drive system, highly efficient supercharger compressor design and effective, air-to-air intercooler system, ProCharger produces the largest, most reliable power gains in the industry. Read more!

The HO Intercooled System and Tuner Kit are designed to be installed onto a completely stock engine and require absolutely no internal engine modifications or changes to the stock exhaust system. And like all ProCharger supercharger systems and tuner kits fit under the stock hood. Both the P-1SC-1 and D-1SC superchargers are available with a helical gearset option for reduced supercharger noise levels.
The HO Intercooled System comes 100% complete, including the industry-leading ProCharger self-contained supercharger, air-to-air intercooler, intercooler tubing, brackets, larger fuel injectors, ProFlow bypass valve and computer programmer. Systems for the 6.2L Raptor utilize 60 lb/hr injectors whereas ProCharger systems for the 5.4L 3V Raptor engine come with 39 lb/hr injectors. Thanks to the industry's coolest charge air temperatures, the unmatched power gains are delivered with maximum reliability and everyday driveability.
ProCharger Tuner Kits
The HO Intercooled Tuner Kit is identical to the complete system, but omits fuel injectors and computer programming and requires post-installation calibration by a qualified tuner. Higher boost and power levels are available for modified engines.
ProCharger HO Intercooled System Highlights:
* D-1SC (6.2L) or P-1SC-1 (5.4L 3V) ProCharger self-contained supercharger (helical gearset available for noise reduction)
* Large, front mounted air-to-air intercooler (fits behind stock grill)
* Outstanding OE underhood appearance
* Fits under stock hood
* Forward-facing supercharger air inlet for maximum exposure to incoming air
* No trimming to factory components
ProCharger Boost and Power
* Boost: 8-9 psi
* HP (6.2L): 600+
* HP (5.4L 3V): 505+
* Power Gains: 50-60% on otherwise stock engines
* 91 octane fuel required
ProCharger Suggested Pricing:
HO Intercooled System, 6.2L Raptor: MSRP: $6,496
HO Intercooled Tuner Kit, 6.2L Raptor: MSRP: $5,646
HO Intercooled System, 5.4L Raptor: MSRP: $5,996
HO Intercooled Tuner Kit, 5.4L Raptor: MSRP: $5,446
Musclevehicles.com – The Ultimate Blog for American Muscle Cars and Muscle Vehicles