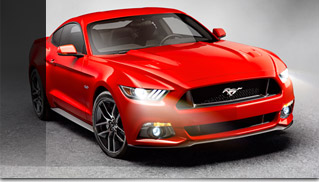 2015 Ford Mustang will be equipped with a brand new airbag, which was designed for additional passenger safety by providing inflatable restraint protection in a smaller, lighter package. In addition, it also enables a roomier interior ant thus – more comfort. The new airbag will be introduced in the musclecar later this year and it will come as a standard. The safety system will also offer customers more robust package of sensors, safety belt anchor pretensioners, improved exterior lighting and double the total number of airbags.
In the first steps of developing this technology, the inflatable plastic bladder is integrated into the glove box door and provides front passenger knee protection. Other applications of this technology allow airbags to be placed in new locations inside the vehicle are in current development.
In fact, Ford engineers developed and tested innovative materials and construction techniques for this new airbag. Unlike a traditional fabric airbag, this one comprises of a pliable, injection-molded plastic bladder positioned in-between the inner and outer glove box door panels.
After a vehicle impact is detected by the crash sensor system, an inflator fills the bladder, extending the entire glove box outer door panel toward the front passenger's legs. The glove box-integrated airbag extends straight out from the instrument panel. This means that it doesn't have to travel as far as a conventional airbag. In addition, the glovebox door distributes the impact load over a larger area than a traditional airbag. It is also capable of operating at a lower inflation pressure.
The result is a design which is 65 percent lighter with an inflator that is approximately 75 percent smaller than a conventional knee airbag inflator. In addition, the improved packaging of the system is more discreet, with no visible seams or airbag cover. The active glove box knee airbag is among a number of technology features on the all-new Mustang, including eight airbags: front and seat-mounted side airbags, as well as a driver knee airbag, two side curtain airbags for the fastback and seat-mounted head airbag on each side for the convertible.
There are also additional crash sensors located on the front, sides and center of the car. They control the deployment of airbags and safety belt pretensioners. Also new to Mustang are safety belt pretensioners added to the belt anchor side that further tighten the belt around front seat occupants.
Tri-bar signature lighting and high-intensity-discharge headlamps are also included in MY2015 Mustang for improved visibility of the road during nighttime driving. At last, Ford has included the MyKey system, which allows parents to limit top speed and audio system volume, and to set limits to prevent the disabling of driver-assist features.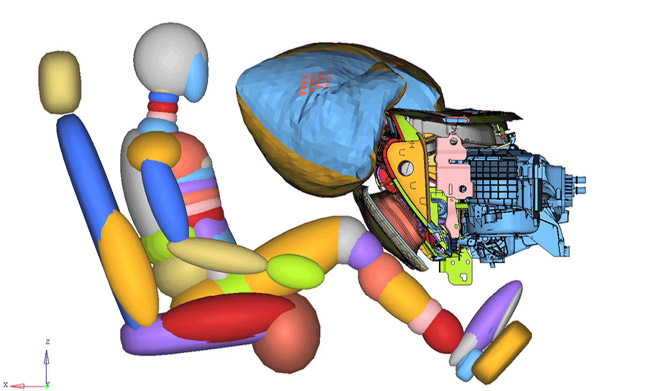 Source: Ford