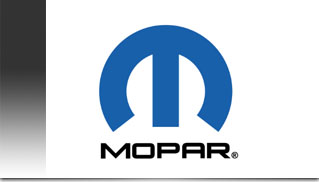 Mopar® 'Top Eliminator' Program Returns
•   27th Midwest Mopars in the Park kicks off 2011 Mopar® "Top Eliminator" program
•   Mopar "Top Eliminator" winners to be named at three events in 2011
•   Program recognizes the most skilled Mopar enthusiasts and their restyled or customized vehicles
May 27, 2011 , Auburn Hills, Mich. – The Mopar® "Top Eliminator" program returns for its fifth year, challenging the "best of the best" to produce incredibly accessorized Chrysler, Dodge and Plymouth vehicles.
The program rewards the most skilled Mopar enthusiasts and their restyled or customized vehicles in 2011. The winners and their vehicles will be showcased in the Mopar display at the Specialty Equipment Market Association (SEMA) show in Las Vegas, Nov. 1–4, 2011.
"The 'Top Eliminator' program continues to grow and is a favorite among loyal Mopar enthusiasts," said Pietro Gorlier, President and CEO of Mopar, Chrysler Group's service, parts and customer-care brand. "The creativity and workmanship that goes into each entry is second to none. With winners receiving a spot in the Mopar display at the SEMA show, the designs continue to reach new levels every year." Read more!

A panel of Mopar representatives will choose one lucky winner from each of three events: The 27th Midwest Mopars in the Park, in Farmington, Minn., June 4–5; the Carlisle Chrysler Nationals in Carlisle, Pa., July 8–10; and the Woodward Dream Cruise in Royal Oak, Mich., August 20.
27th Midwest Mopars in the Park Kicks off 2011 'Top Eliminator'
The 2011 Mopar "Top Eliminator" program kicks off with the 27th Midwest Mopars in the Park, June 4–5 in Farmington, Minn., the largest all-Mopar Car Show in the Midwest. The 2011 Show Special Display will feature 1971 Mopars of all makes and models.
Steve Ashby of Marietta, Ga., was named the first Mopar "Top Eliminator" last year in recognition of the Silver 1968 Dodge Coronet R/T HEMI® he displayed at the Mopars at The Strip event in Las Vegas. Jerry Stallard, of Columbia Station, Ohio and his 1970 Dodge Challenger R/T SE earned "Top Eliminator" honors at the Midwest Mopars in the Park event. Scott Buck of East Greeneville, Pa. and his 1970 Dodge Coronet Super Bee were named the Mopar "Top Eliminator" at the 2010 Carlisle Chrysler Nationals.
Lars Skroder's Yellow 1971 Plymouth GTX was named the Mopar "Top Eliminator" winner at the Mopar Nationals car show. Ken Johnston of Antioch, Calif. received top "Tuner Category" honors with his 2006 Dodge Charger SRT8®. Sarah Abell, from Toney, Ala., was awarded the "Best Appearing" Award for her 2010 "B5Ghost."
Mopar-first Features
Mopar has introduced numerous industry-first features including:
Camper trailers: first to introduce off-road camper trailers
Vehicle-information apps: first to introduce smartphone vehicle-information applications, a new channel of communication with consumers
Electronic owner manuals: first to introduce traditional owner manuals in a DVD and brief user-guide format
Electronic Vehicle Tracking System (EVTS): first to market with a new interactive vehicle tracking device that sends owner a text when vehicle is driven too fast or too far based on pre-set parameters
2011 Mopar Challenger Drag Pak: first to introduce a 500-plus cubic-inch V-10 drag-race package car
Wi-Fi: first to offer customers the ability to make their vehicle a wireless hot spot
WiTECH: first to support vehicle diagnosis and software updates leveraging off-the-shelf personal computers and a dedicated wireless tool network
About Mopar Brand
Mopar is Chrysler Group LLC's service, parts and customer-care brand.
Mopar distributes approximately 280,000 parts and accessories in more than 90 countries and is the source for all original-equipment parts for Chrysler, Jeep®, Dodge and Ram vehicles. Mopar parts are unique in that they are engineered with the same teams that create factory-authorized vehicle specifications for Chrysler, Jeep, Dodge and Ram vehicles — a direct connection that no other aftermarket parts company can provide. A complete list of Mopar accessories and performance parts is available at www.mopar.com.
More than 70 Years of Mopar
When Chrysler bought Dodge in 1928, the need for a dedicated parts manufacturer, supplier and distribution system to support the growing enterprise led to the formation of the Chrysler Motor Parts Corporation (CMPC) in 1929.
Mopar (a simple contraction of the words MOtor and PARts) was trademarked for a line of antifreeze products in 1937. It also was widely used as a moniker for the CMPC. The Mopar brand made its mark in the 1960s — the muscle-car era. The Chrysler Corporation built race-ready Dodge and Plymouth "package cars" equipped with special high-performance parts. Mopar carried a line of "special parts" for super-stock drag racers and developed its racing parts division called Mopar Performance Parts to enhance speed and handling for both road and racing use.
Musclevehicles.com – The Ultimate Blog for American Muscle Cars and Muscle Vehicles