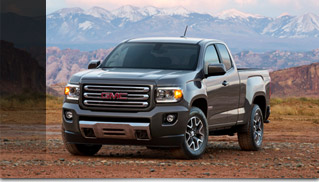 2015 GMC Canyon and other GMC vehicles from the same model year will be launched later with added connectivity feature. The owners will be able to stay connected via the OnStar 4G LTE connectivity. Innovative features on the Canyon deliver the opportunity to play games like EA SPORTS Madden NFL 15 online between two stationary vehicles or with others at home. The OnStar with 4G LTE features a built-in Wi-Fi hotspot capable of connecting up to seven devices in or around the vehicle.
In addition, GMC, the Official Vehicle of the NFL, will be featured in EA SPORTS Madden NFL 15 with vehicles and branding appearing during gameplay. For instance, after the big game victory, the game's MVP will be awarded a 2015 GMC vehicle.
Canyon's Wi-Fi hotspot isn't the only way that the occupants of the car can stay connected. Using the RemoteLink smartphone app, users can start and stop or lock and unlock a vehicle. This application is ideal for keeping a set of tickets locked away for late arrivers. Other two quick phone commands offer the convenience of unlocking or re-locking the vehicle. These RemoteLink Key Fob Services are free for the first five years after purchase.
GMC Canyon was designed as the smallest pick up in company's range of vehicles. Canyon is also the epitome of efficiency. It is equipped as a standard with the 2.5L I-4 engine, while the 3.6L V6 is an option. Both engines feature direct injection, variable valve timing and 6-speed transmissions. Another option is the 2.5L Duramax® Turbo-Diesel, which joins the engine lineup in 2015 to deliver even bigger power to this small pickup.
Source: GMC