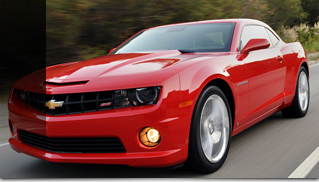 GM to Bring Chevrolet to Korea
Will launch GM's leading global brand to strengthen its position in domestic market
Busan, Korea – Chevrolet, General Motors Company's leading global vehicle brand, will be introduced in Korea in 2011. GM Daewoo Auto & Technology President and CEO Mike Arcamone made the announcement today at a press conference held in conjunction with the opening of the Busan International Motor Show.

"The introduction of Chevrolet will enable us to provide our customers an array of exciting new vehicles from the brand's global lineup, giving them more driving options," said Arcamone. "This will help GM Daewoo increase our sales and market share in the domestic market while generating additional revenue, strengthening our employees' job security, creating new jobs and resulting in additional investment in Korea. We regard it as a key to our long-term success."
As an example of the products that Korean consumers can expect, GM Daewoo introduced the new Chevrolet Camaro at its motor show stand. The popular sports car will go on sale in Korea in 2011.
"According to our market research, half of all Koreans are familiar with the brand and more than 80 percent are aware of Chevrolet's distinctive logo," said Arcamone. "This is indicative of the positive brand image that already exists among consumers in Korea toward Chevrolet. We see tremendous upside with its introduction."
Arcamone also emphasized that today's announcement is about brand coexistence, not brand replacement. "Our decision to launch Chevrolet is in the best interest of GM Daewoo and Korea," he said.
Founded in 1911 and named after famous race car driver Louis Chevrolet, Chevrolet is one of GM's four core brands. Last year, Chevrolet accounted for 44 percent of GM's global sales and registered a 21 percent increase in sales from the previous year.
"GM is bringing the new brand to Korea to enhance our presence in the domestic market," said GM International Operations President Tim Lee. "Last year, 3.3 million Chevrolet vehicles were sold in 130 markets worldwide, making it the fourth most popular passenger car brand globally."
The success of products such as the new Chevrolet Cruze global compact sedan and the next-generation Chevrolet Spark mini-car has played a key role in Chevrolet becoming one of the fastest-growing vehicle brands in the world. Chevrolet sales in 2009 were twice those in 2005.
"Chevrolet has enjoyed success in mature markets in North America and Europe, as well as in emerging markets in Asia Pacific and Latin America," said Lee. "We are confident that it will drive us into a new era in Korea."
About General Motors
General Motors, one of the world's largest automakers, traces its roots back to 1908. With its global headquarters in Detroit, GM employs 217,000 people in every major region of the world and does business in some 140 countries. GM and its strategic partners produce cars and trucks in 34 countries, and sell and service these vehicles through the following brands: Buick, Cadillac, Chevrolet, FAW, GMC, GM Daewoo, Holden, Opel, Vauxhall and Wuling. GM's largest national market is the United States, followed by China, Brazil, Germany, the United Kingdom, Canada, and Italy. GM's OnStar subsidiary is the industry leader in vehicle safety, security and information services. General Motors acquired operations from General Motors Corporation on July 10, 2009, and references to prior periods in this and other press materials refer to operations of the old General Motors Corporation. More information on the new General Motors can be found at www.gm.com.
About Chevrolet
Chevrolet is one of America's best-known and best-selling automotive brands, and one of the fastest-growing brands in the world. With fuel solutions that range from "gas-friendly to gas-free," Chevrolet has nine models that offer an EPA-estimated 30 miles per gallon or more on the highway, and offers two hybrid models. More than 2.5 million Chevrolets that run on E85 biofuel have been sold. Chevrolet delivers expressive design, offers spirited performance and strives to provide the best value in every segment in which it competes. More information can be found at www.chevrolet.com.
Musclevehicles.com – The Ultimate Blog for American Muscle Cars and Muscle Vehicles