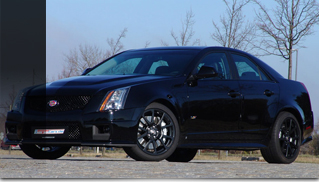 GeigerCars from Germany released an upgrade program for the Cadillac CTS-V,
coinciding with the American performance saloon's European launch. The four-door Cadillac
with the tapered bonnet is powered by a 6.2-liter eight-cylinder engine, developing 564 horsepower and a maximum torque of 747 Nm.
Under the massive power dome hood are hidden the large intercooler and the compressor. Thanks to several tweaks here and there, such as an increase in air charge pressure, GeigerCars managed to lift the power up to 619 horsepower and raised the maximum torque to 850 Nm, which means a top speed of over 330km/h thanks to a shortened fifth and sixth gear.The tuner however, did not release the time it takes the GeigerCars Cadillac CTS-V to accelerate from 0 to 100 km/h. The GeigerCars Cadillac CTS-V price is 84,900 euros, which is 10,500 euros more than the standard car.
The team behind the Geiger Cadillac CTS-V says it "shoots into action in all situations and keeps a joyful grin on its driver's face in every one of its manual gears. Not only that, but its optimised chassis means the CTS-V offers the perfect balance between long-distance comfort and an uncompromising hunger for curves and speed."
Technical data of Geiger Cadillac CTS-V:
Engine: 6.2 liters V8 with compressor, increased charge pressure
Power: 619 HP at 5900 rpm
Max. torque: 850 Nm at 4000 rpm Bore x stroke: 103.2 x 92.0mm
Drive: rear-wheel drive
Gears: 6-gear transmission; 5th and 6th gear shortened
Brakes: ventilated disc brakes at front and rear
Top speed: 330km/h
Price: 84,900 euros
Musclevehicles.com – The Ultimate Blog for American Muscle Cars and Muscle Vehicles