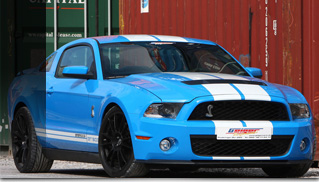 Geiger Cars is a famous and traditional importer of American muscle cars in Europe. The tuning company presents the Geiger Ford Shelby GT with a power upgrade and a few styling modifications. The Geiger Ford Shelby GT is powered by a 5.4 liter V8 engine with 3.3 l compressor with 1.6 bar supercharging pressure that develops 810 PS / 541 kW at 6,700 rpm and 945 Nm of torque at 4,300 rpm – this is just amazing!
To handle all that muscle car power, the Geiger Ford Shelby GT is equipped with custom cylinder heads, a modified injection system, larger throttle valves, a sport air filter, 100 mm air flow meter and a cold air box. Some other modifications are an aluminum rocker arm, a forged crank drive, a 3 disc carbon clutch, a reinforced transmission with shortened 5th and 6th gears, an increased differential and engine oil cooler. Geiger rates the top speed of the Geiger Ford Shelby GT at … 354 km/h. The price will be announced at later time. Check out the specifications and image gallery after the jump.
Perhaps this Mustang Shelby version would also put the fear of God into the US racing legend Carroll Shelby!
Technical data
Engine: 5.4 litre eight cylinder V with modular compressor, Ford GT aluminium engine block, machined cylinder heads, modified injection system, larger throttle valves, sport air filter, 100 mm air flow meter, cold air box, aluminium rocker arm, forged crank drive, 3 disc carbon clutch, reinforced transmission with shortened 5th and 6th gears, increased differential, engine oil cooler, 3.3 l compressor with 1.6 bar supercharging pressure
Power: 810 PS / 541 kW at 6,700 rpm
Max. engine torque: 945 Nm at 4,300 rpm
Maximum speed: 354 km/h

Wheels/tyres: OZ alloys, front 8.5x 20 in. with 245/35ZR20, rear 10×20 in. with 285/30ZR20
Brakes: VA 380 mm slotted discs with Geiger 6 piston brake calipers GT V6, brake hoses
Chassis: racing chassis, Geiger Panhard rod, reinforced and adjustable Geiger trailing arms
Musclevehicles.com – The Ultimate Blog for American Muscle Cars and Muscle Vehicles