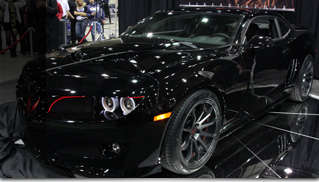 Exodus Pictures is a film studio, which is based in Michigan. These people officially unveiled the FireBreather – the new movie muscle car star. This is a Camaro-based muscle car, in which development took part Classic Design Concepts. This shiny pearl state-of-art muscle Camaro was designed by the writer and director of the Jinn movie – Ajmal Ahmad. In this production the FireBreather will make its first debut.
Actually, this is pretty much Chevrolet Camaro SS version, that is tuned with a sense of creativity by Classic Design Concepts – we can see a new front fasica, hood, rear fascia and some incredibly hot-looking wheels. Some people can make association with the old Trans-Am american muscle car. Most of the job is nothing more than a new-outfitted vision. Inside is  the Camaro's 6.2-liter V8 with an Elbach Pro-Plus Performance handling package, and of course – Pirelli PZero Rosso tires.
What about the ordinary people who want to buy this muscle car? Based on our sources, Exodus Pictures will be offering up 50 individually numbered FireBreathers for just under $60,000. You can make your order at the FireBreather's sales website, and will be sold on a first come, first served basis.
Musclevehicles.com – The Ultimate Blog for American Muscle Cars and Muscle Vehicles