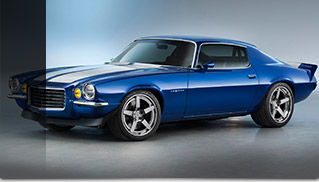 Chevrolet Performance is showing off the new LT4 crate engine in the most attractive way possible – under the hood of a classic 1970 Camaro RS. The concept vehicle was introduced at the 2015 SEMA Show, in Las Vegas.
As the supercharged 6.2L heart of the Corvette Z06, the LT4 is rated at 650 horsepower and 650 lb-ft of torque, making it the most powerful production-vehicle engine ever from General Motors. The new crate engine – offered in dry-sump and wet-sump versions – allows builders to use the high-tech performance engine in their hot rod projects.
This Camaro concept uses the wet-sump kit, along with complementing air conditioning and front-end accessory drive kits.