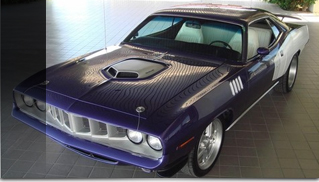 The car on the picture is the "personal" 1971 Plymouth Hemi 'Cuda of the Beach Boy singer Al Jardine. This muscle car was highly touted in the run-up to the auction block next week at the Barrett-Jackson event in Scottsdale, Ariz, but pulled from sale on Friday.
The reason is that the vehicle had been reported stolen in 1975, in St. Louis. A few hours later, however, Scottsdale police said it was all a misunderstanding, and Barrett-Jackson reinstated the car.
It seems that the problem was a '71 Plymouth with that VIN had indeed been reported stolen, but after that it was recovered and there was no update in the police database. What's more – such thing could happen when a less desirable version of a model is upgraded by customizers to the most sought-after version. For instance, a '71 Cuda with a 6-cylinder engine may have a Hemi V-8 swap. But this car customized in plum-and-white, had been advertised by Barrett-Jackson as "Al Jardine's, of the original Beach Boys, personal Hemi 'Cuda re-creation. It has been built for Jardine to his specifications and is titled in his name.
Musclevehicles.com – The Ultimate Blog for American Muscle Cars and Muscle Vehicles
Musclevehicles.com - The Ultimate Blog for American Muscle Cars and Muscle Vehicles
Tags: 1971, 71, al jardine, auction, car, cars, cuda, HEMI, hemi cuda, muscle, Muscle car, muscle cars, muscle vehicle, muscle vehicles, musclevehicles, plymouth, plymouth hemi, plymouth hemi cuda