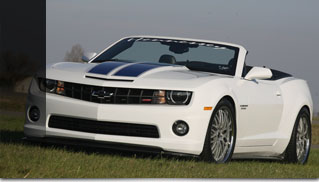 Introducing the 2011 HPE600 Supercharged Camaro Convertible
March 7, 2011
FOR IMMEDIATE RELEASE
SEALY, TEXAS – Hennessey Performance (HPE) introduces the company's first 2011 HPE600 Supercharged Camaro convertible. Pounding the pavement with a 602 bhp supercharged V8, the HPE600 is also the first 2011 Chevrolet Camaro convertible to hit the streets with a full treatment of aftermarket performance upgrades.
Hennessey began offering its power-addicting upgrades to the latest Chevy Camaro when the car was introduced in April of 2009. Since that time, HPE has built hundreds of Camaros with over 550 horsepower for owners across the globe.
"We were excited to receive one of the first 2011 Camaro SS convertibles from Chevrolet," says company founder and president, John Hennessey. "It was only natural that we would take the new Camaro SS convertible and upgrade it with our very popular HPE600 Supercharged upgrade. If having a 602 horsepower Camaro is cool and fun to drive then being able to drop the top takes the sensation of speed and the classis sound of American-muscle to a whole new level." Read more!
The 2011 HPE600 Supercharged Camaro convertible puts its additional power to the ground with the help of a lowered (1 inch) KW adjustable coilover suspension system. Combined with wider 20 inch wheels (9.5 x 20 inch fronts, 10.5 inch rears) riding on Michelin Pilot Super Sport tires (275/30-20 fronts, 305/30-20 rears), the HPE600 Camaro convertible is capable of going from 0-60 mph in just 3.9 seconds while running through the quarter mile in 12.0 seconds @ 118 mph.
"The new convertible Camaro is about 250 lbs heavier than the hardtop," states Hennessey CEO, Don Goldman. "But when you add nearly 200 horsepower, it more than makes up for the increased weight. When you are cruising down your favorite road with the top down, the combined sound of supercharger and exhaust makes it all worth it!"
The base cost for the HPE600 Supercharged Camaro convertible is $56,495 (base Camaro SS convertible MSRP of $40,500 plus $15,995 for the HPE600 Supercharged upgrade). All HPE600′s come with a 3-year / 36,000 mile powertrain warranty from Hennessey. All-in, the HPE600 Supercharged Camaro convertible with upgraded wheels, tires, suspension and CarbonAero™ carbon fiber front splitter and side sills costs $74,950 plus tax, title and license.
Camaro hardtop and convertible owners can send their vehicles to Hennessey facilities located near Houston, Texas and Lake Forrest, California. New vehicles can also be purchased through authorized Hennessey dealers such as Parkway Chevrolet (www.parkwaychevrolet.com ) in Tomball, Texas.
2011 HPE600 Supercharged Camaro Convertible
Vehicle Specifications
Power:
• 602 bhp @ 6,300 rpm
• 605 lb-ft torque @ 3,800 rpm

HPE600 Supercharged Upgrade Includes:
• TVS2300 Supercharger System (Black)
• HPE Cold Air Induction System
• Stainless Steel Long Tube Headers
• High Flow Catalytic Converters
• Stainless Steel Mid-Pipes
• High Flow Fuel Injector Upgrade
• Professional Installation
• HPE Engine Management Calibration
• Dyno Tuning & Road Testing
• Hennessey & HPE600 Exterior Badging
• Serial-Numbered Dash & Engine Plaques
• Hennessey Premium Floormats
• Hennessey Embroidered Headrests
• HPE Modified Engine Cover
• 3 Year / 36,000 Mile Limited Warranty

Options Include:
- CarbonAero Front Splitter (real carbon fiber)
– CarbonAero Side Sills (real carbon fiber)
– Hennessey / KW Variant 1 Suspension Upgrade (lowered 1 inch)
– Hennessey Blue Hood Stripes
– Hennessey 3-Piece Alloy Wheels (20×9.5 in. front, 20×10.5 in. rear)
– Pirelli P-Zero Tires (275/30-20 front, 305/35-20 rear)
– Hennessey Carbon Fiber Door Sill Plates
Musclevehicles.com – The Ultimate Blog for American Muscle Cars and Muscle Vehicles
Musclevehicles.com - The Ultimate Blog for American Muscle Cars and Muscle Vehicles
Tags: american cars, american muscle cars, american sports car, auto blog, auto news, automotive, automotive news, blog, Camaro, camaro convertible, car, car blog, car news, carbonaero, cars, cars blog, Chevrolet, cool cars, cool muscle cars, domestic cars, Hennessey, hot cars, hot muscle cars, hpe600 convertible, muscle, Muscle car, muscle cars, muscle cars blog, muscle vehicles, musclevehicles, news, sport cars, vehicles, Video