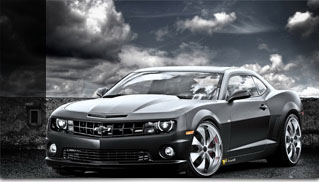 The reinvigorated after the economical crisis US car industry has born some kind of remarkable cars during its history. The made by GM Chevrolet Camaro SS is with good reason also represented in this category. Comparisons with the legendary Ford Mustang are not at all far-fetched, they are even a matter of intention.
In Herten, Germany, you can find the Speed Box car workshop. And it is even there that such a Camaro has been chosen to make all neighbors to have a look at this kind of vehicle.
The dominant power dome on the engine bonnet gives justified reasons forspeculations, because the 6.2 liters V8 engine produces 432 HP standardat a max. torque of 569 N/m. After having passed a power cure with compressor kit (8,999.00 Euro) by Speed Box, the Camaro produces impressionating 625 HP.
The BORLA stainless steel exhaust half-system (999.00 Euro without tailpipe) has its own full up sound. The matt black body paintwork underlines the catlike manner of the Chevy, available starting from 3,500 Euro. Read more!

The top of the pops is this phenomenal wheel/tire combination named Rhino out of the seemly endless wheel model pool of Schmidt Revolution (www.felge.de) Bad Segeberg, Germany. For this type of care have been used equipped with 265/30-R22 and 295/25-R22 tires 10×22" and 11×22" wheels, without wheel arch crimping. The wheel set price incl. tires is of 3,399.00 Euro. In addition, the high quality Rhino rims from Schmidt Revolution have especially weather proof stainless steel faceplate, thatcan be replaced in case of damage in a cheap and quick way thanks to anoptimized installation. The Rhino light alloy rims are available in 9×20", 10×22" and 11×22".
Additionally, Speed Box spends H&R coilovers for 1,272.00 Euro. H&R stabilizers are optional for another 530.00 Euro, which improvesthe driving dynamics sensibly.
And if after all the well-disposed spectator fevers to get the key to make an extended test drive, the tuning experts will have reached their aim…
Musclevehicles.com – The Ultimate Blog for American Muscle Cars and Muscle Vehicles