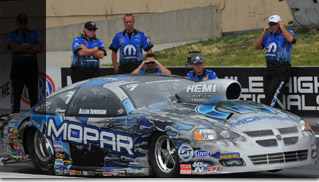 American manufacturer Chrysler is gearing up its Mopars for the 31st annual Mile-High NHRA Nationals, which will take place on July 23–25 at the Bandimere Speedway in Morrison, Colorado. For the opening gala, Chrysler is prepping the recently introduced Mopar '10 Challenger.
"We're looking forward to bringing Mopar Nation to Thunder Mountain," Pietro Gorlier, MoparCEO said in a statement. "This is a premier stop on the NHRA circuit and a great place to showcase the Mopar brand and reveal our new Mopar '10 Challenger."
The Mopar '10 hides a 5.7 liter Hemi V8 powerplant under its hood and comes with several unique features to set it apart from other Dodges, like black chrome finish for the grille surround and Brilliant Black paint.
As for the technical tweaks which will make the 500 units of the '10 stand out from the crowd, they comprise hood-venting system and a cold air intake, front strut brace with shock caps and a rear strut tower brace and twenty inch forged rims.
Aside for the '10, Mopar will display at the event the Ram 3500 Heavy Duty, a "Moparized" Dodge Challenger, Mopar Ram Runner and the Mopar Direct Connection Test Lab Vehicle.
"Bandimere Speedway is proud and honored to have Mopar call our track home," added John Bandimere Jr., Bandimere Speedway CEO.
"Our unique venue and the forward-thinking people at Mopar make this one of the top fan experiences on the NHRA Full Throttle Drag Racing Series. We are eager to have our friends return to Denver for this long-running partnership."
Musclevehicles.com – The Ultimate Blog for American Muscle Cars and Muscle Vehicles