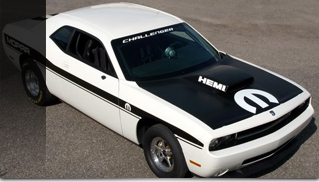 Just a bit of history to begin with – The 2009 Dodge Challenger Drag Pak program commemorated the 40th anniversary of the iconic 1968 Dodge Hemi Dart and Plymouth Hemi Barracuda package muscle cars. And despite the fact these cars were sold as road legal, the modern ones are not allowed on the public roads.
And here it is nowadays – Mopar introduced its 2010 Dodge Challenger Drag Pak program. This is a non-street legal V8 powered, racing version of the Dodge Challenger. This racing muscle car has a 6.1L Hemi V8 and a 6-speed manual or a 4-speed automatic transmission. The base model is the 2010 Dodge Challenger SRT8 and finished in a Stock Eliminator configuration. It means that a lot of components have been replaced due to reduce weight.
The muscle car has some cool features as composite lift-off hood with functional scoop, Dodge Viper-style front seats, polycarbonate door windows, a lightweight cooling system, no power steering, bespoke lightweight front-brake assemblies and others.
The paint job is outstanding – retro Stone White paint and is eligible for NHRA Stock, Super Stock and Comp Eliminator drag racing. The price is about $39,999 and the muscle car will be available this summer.

Musclevehicles.com – The Ultimate Blog for American Muscle Cars and Muscle Vehicles