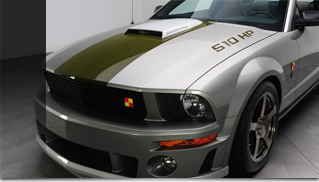 Like most gearheads, Jack Roush enjoys engines of any kind and speed at any level. Nobody knows more about getting a Ford around a racetrack quickly than this guy. And for years, some of the nastiest, most powerful, and most spectacular blue oval hardware ever built has come out of Roush Performance in Livonia Michigan. However, as an owner of two P-51 Mustangs, Jack also has a healthy love for the vintage warbirds which inspired America's first pony car. And in 2009, he decided to create an aeronautical themed performance car that would be a literal interpretation of Triple Ace Bud Anderson's "Old Crow" P-51B fighter plane. One of only 51 produced, this showroom fresh Roush P-51B is the ultimate embodiment of classic American aviation and decades of racing knowledge. If you're looking for a unique show car that's virtually guaranteed to grow into an elite, investment grade muscle car, here's your chance to strap in early and watch this Mustang climb! Read more an enjoy the image gallery of this beautiful 2009 Ford Mustang Roush P-51b!
Number 7 of only 51 Roush P-51B Mustangs ever built, this pristine Ford pony car has been in the care of one meticulous owner since new and presents excellent in every way. The car's body is 100% straight with no history of accidents or damage of any kind, and a close look down its fuselage reveals not so much as a dent or ding anywhere. Roush's high quality paint and bodywork blend invisibly with the car's tight and glossy factory panels. And overall, this Ford pony conveys a premium sense of collectability that, when combined with its spectacular performance, creates a timeless modern classic.
Following the successful launch of their 2008 P-51A, which is one of the most sought-after and collectible Mustangs of the company's 17 year history, Roush Performance decided 'refinement' would be the key term when it came time for a 2009 follow up. And nowhere is that theme more apparent than on the exterior of this P-51B. At the front of the car, a high flow Roush grille hangs a familiar P-51 emblem between factory black-bucket head lights, a custom Roush front valence and a P-51B-exclusive silver chin spoiler. Above that grille, a factory Mustang GT hood props a prominent "ROUSHCHARGED" branded scoop above a P-51B-exclusive painted green stripe and P-51B-exclusive painted "510 HP" call-outs. Behind that hood, original glass displays a silver "Roush" windshield banner between flat black factory rear view mirrors and body-matched Roush quarter window covers. Below that glass, bright P-51B emblems and traditional Roush Performance emblems are perfectly aligned with Vapor painted rocker panels and Vapor painted door handles. And at the back of the car, a P-51B-exclusive black valence centers pristine factory tail lights and a "P-51″ branded faux fuel filler emblem between a silver, fiberglass racing spoiler, a stylized rear bumper and Roush branded exhaust tips.
Like most Roush Mustangs, the P-51B features a supercharged and intercooled 4.6 liter Ford V8. Unlike most Roush Mustangs, the P-51B features a whole roster of performance upgrades which include forged aluminum pistons, forged steel H-beam connecting rods, a forged steel crankshaft, unique high flow fuel injectors, a unique fuel rail and a dual 60mm electronic throttle body. The TVS Technology Roushcharger is an Eaton style blower that sits atop the engine and exhales through an air-to-liquid intercooler which helps manage on-track temperatures. In front of that blower, you'll find a custom Roush air induction system and below that blower you'll find a custom Roush Performance intake manifold. Despite Fords 4.6 liter being a very strong engine as is, a beefier cooling system, a recalibrated ECM and a full set of Roush billet caps were implemented to aid both performance and aesthetics. And all those tweaks, modifications and substitutions eventually tally up to a mild 8.6 to 1 compression, an even 510 horsepower and a spectacular 510 lb./ft. of torque. On the radiator support, a Roush Performance badge lists the hot engine's power output and verifies this Mustang as number 7 of the 51 P-51Bs built. On the passenger's side inner fender you'll find a satin metal plate that's engraved with the signature of the technician who assembled the engine. Number 7′s engine bay features Roush Performance's typical OEM style expertise and displays hardly any signs of usage at all. And when the engine fires up, the custom air intake combines with the awesome Roushcharger to provide a sinister whine at idle and an incredible roar from trackside!
Straight from Dearborn, the D2C Mustang platform is a very capable foundation; and this P-51′s added Roush Performance upgrades make it a true force to be reckoned with both on the street and at the track. The transmission is a Tremec 5-speed manual which utilizes an upgraded clutch and a Roush aluminum flywheel to drive a rugged Ford 8.8-inch rear end. Inside that rear end, a Detroit TrueTrac differential houses road course appropriate 3.55 gears which combine with a Roush wheel hop reduction kit to give the car long legs on the straightaway. And outside of that rear end Roush Suspension System upgrades, which include new front struts, new rear shocks, new pinion snubbers, new front and rears sway bars, and new springs at all four corners, give the car good grip out of the bends. Braking is handled by a combination of red, six-piston "ROUSH" branded front calipers and factory grade rear calipers which respectively clamp positively massive 14 inch, two-piece slotted front rotors and slotted rear rotors. Spent gases are whisked away by an optional Roush Performance off-road exhaust system which is specifically engineered for Ford's 'mod' motor; and as a result, sounds downright predatory even at idle. And power is put to the pavement through awesome 18 inch Roush Performance black chrome forged alloy wheels which spin super sticky 275/40 Cooper Zeon radials around mandatory locking lug nuts.
Unlike many tuners, Roush Performance always adds interior upgrades to their vehicles. Steal one glance through the doors of this barely touched P-51B and you'll find a top-of-the-line cockpit that still retains its new car smell and still features some of its protective factory plastic. The seats are supple leather buckets which display light stitching, suede inserts and bright "P-51B" logos. Inside the dash, an OEM-quality Roush Stage 3 electro luminescent instrument panel rides behind attractive carbon fiber trim and a cleverly placed boost gauge. At the center of the car, a Roush Performance short throw shifter looks perfect between a carbon fiber topped console and a powerful Shaker 500 audio system. And at the floor, Roush Performance CNC billet foot pedals hang over like-new black carpet which is protected by custom "P-51B" embroidered floor mats and bordered by satin-finished Roush sill plates. Behind the cockpit, a factory correct trunk hangs a slick Roush Performance tool kit above ample storage space. And naturally, all the amenities and convenience features you've come to expect in a modern classic are present and accounted for including climate control, cruise control and full power accessories.
Documentation for this aeronautical themed Roush includes an original Ford window sticker, an original Roush Performance window sticker, an original Ford owner's manual, an original Roush owner's manual, the car's factory plastic seat covers, all the car's keys and fobs, a few dealership brochures and a transferrable 84 month/70,000 mile warranty.
The name Jack Roush is legendary at race tracks around the world, so when he puts his name on a line of performance Mustangs, you know they're going to be something special. There's little to fault in this low mileage, one owner P-51B, and it's a superb car with out-of-the-box abilities which allow it to embarrass any number of vehicles around any race circuit. If you're looking for a future blue chip collector piece that's interesting, fun, easy to live with and scary fast all at the same time, you've found your next car!
STANDARD EQUIPMENT INCLUDED:
17 inch premium painted cast aluminum wheels
P235/55ZR17 all season black side wall tires
Front fog lamps
Stainless steel dual exhaust
Variable interval wipers
Rear window defroster
GT Rear decklid spoiler
—–
Cloth bucket sport seats
Power 6-way driver's seat
Manual 2-way front passenger's seat
Center console with armrest
Air conditioning
Premium AM/FM CD player that's both MP3 capable and satellite capable
Dual vanity mirrors
Cruise control
Tilt steering wheel
Split fold rear seat
Color coordinated carpet that's complete with front floor mats
—–
Four wheel disc brake system that's complete with both ABS and traction control
Power rack and pinion steering
Two power points
Power windows, locks and mirrors
Remote keyless entry
—–
Driver and passenger airbags
Side airbags
Illuminated entry
Personal safety system
Latch child safety system
Securilock PASS anti-theft
Tire pressure monitoring system
OPTIONAL EQUIPMENT:
Driver ornamentation package ($195)
California emissions system ($00)
Smoker's package ($00)
Shaker 500 audio system which includes a 6 disk in dash CD changer ($665)
2009 FORD MUSTANG ROUSH P-51B:
ROUSHcharged P-51 4.6L powertrain system which produces 510 horsepower and 510 lb./ft. of torque
- TVS Technology ROUSHcharger
–Intake manifold
–Intercooler and radiator
–Cold air induction system
- Secondary sheave fead
- Forged aluminum pistons
- Forged steel H-beam connecting rods
- Forged steel crankshaft
- Unique high flow fuel injectors
–Unique fuel rail
- Dual 60mm electronic throttle body
- Upgraded fuel system
- Aluminum flywheel
- Upgraded clutch
–Roush calibrated ECM
ROUSH aerobody kit
- Front fascia
- Front chin spoiler
- Hood scoop
- Rear quarter window louvers
- Rear wing
- Black high flow front grille
- Lower valence fog lamps
ROUSH P-51B graphics and badging
- P-51B fender emblems
- P-51B rear decklid badging
- P-51B serialized engine bay badge
- P51-B signature engine bay badge
- Hood stripe
- Windshield banner
- ROUSHCHARGED hood scoop decals
ROUSH Stage 3 suspension system
- Front struts
- Rear shocks
- Pinion snubbers
- Front and rear springs
- Front and rear sway bars
- ROUSH wheel hop reduction kit
ROUSH 18 inch forged black chrome wheels with ultra high performance tires and locking lug nuts
ROUSH short throw shifter with retro shift lever and P-51B shifter ball
ROUSH P-51B sport leather seating with suede inserts
ROUSH four piece performance pedal kit
ROUSH white face electro luminescent gauge cluster
ROUSH P51-B embroidered floor mats
ROUSH billet underhood caps
ROUSH door sill plates
ROUSH carbon fiber interior trim