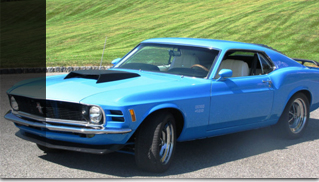 Here we present you this awesome 1970 Mustang Boss 429 just completed by the guys at Peak Performance Restorationsa. The muscle car features Kaase replica Boss 429 heads on a 460 block, bored and stroked to 545ci delivering an amazing 850 horse power! A 
The Boss 429 is arguably one of the rarest and most valued muscle cars to date. In total there were 1,358 Boss 429′s made. The origin of the Boss 429 comes about as a result of NASCAR. Ford was seeking to develop a Hemi enginethat could compete with the famed 426 Hemi from Chrysler. NASCAR's rules required that at least 500 cars be fitted with this motor and sold to the general public. After much consideration, it was decided by Ford that the Mustang would be the car that would house this new engine.
In 1970 there were 499 Boss 429′s made by Ford Motor Company. There were five new exterior colors (Grabber Orange, Grabber Green, Grabber Blue, Calypso Coral, and Pastel Blue) and the interior was available in White or Black. The hood scoops for this year were all painted black regardless of the color of the car. These cars also had a manual transmission and no AC was available.
These cars were rated conservatively at 375 horsepower and 450 ft lbs of torque. Actual output was just over 500 horsepower . The manufacturers and dealers only listed 375hp because of legal issues and rising insurance costs.
In present day, these cars are highly sought after. As of 2008, auctions on Ebay and at Barrett-Jacksonhave brought bids of over $250,000.
Peak performance is proud to present their tribute to the Boss 429. A complete rotissore build surrounds this amazing engine. We started with a 1970 fastback which was completely sandblasted and all rust removed and new sheet metal replaced. All new parts were used to improve the handling of this car. New suspension, Wilwood brakes and TKO 600 transmission complete the transformation. Read more!
Keeping in line with the Peak Performance mission of building classic cars with new technology, the exterior and interior of the car are an exact copy of the original Boss 429 Grabber Blue color and correct Deluxe white interior.
Want a different color, Grabber Orange, Grabber Green, Calypso Coral? Peak Performance can build a custom build for you in 6 months with all the features outlined below.
The specifications are described below:
Drive Train
Kaase Nine Heads (Replica 429 Heads)
800 Horse Power, 545ci, 460 block bored and stroked 
Transmission Tremec TKO-600, 5-Speed, 
600 Ft. Lbs. Torque Transmission
Hydraulic Clutch Set Up
Concept One Pulley System
Fuel/ Engine Management
Aeromotive Fuel Pressure Regulator & Fuel Pressure Gauge
Aeromotive Fuel Pump A1000
Aeromotive High Performance Fuel Filter
Fuel Tank, 16 Gallons
All AN-8 Fuel Lines
High Volume Custom Air Filter
Suspension
Front: Rod and Custom Tubular Coil Over System with Sway Bar
Rear: Rod and Custom Rear Coil Over Kit 
Shock Towers removed and plated over 
All Suspension Powder Coated Grabber Blue
Steering
Rod and Custom Rack and Pinion Steering 
LeCarre Wood Steering Wheel
Flaming River Tilt Steering Column
Brakes
Front: Wilwood Dynalite Big Brake Series
12.19" Vented Rotors with 4 Piston Calipers
Rear: Wilwood Dynalite Pro Series Brakes 
12.19" Vented Rotors with 4 Piston Calipers
Rear End
Ford 9" Moser 31 Spline Axles
Posi-Traction Tru Track Differential
Strange Center Section 
Richmond 3.25:1 Gears
Daytona Aluminum Pinion Support
Chassis
Total Control Products Sub-Frame Connector System Side 
Total Control Sub-Frame Cross Over Drive Shaft
Interior
Deluxe Mustang White Vinyl Seats with Inserts
3 Point Quick Release Seat Belts
Phantom White Face Autometer Gauges
160 MPH Speedometer
Vintage Air Custom A/C System
CAE Sound Dampening Package
Hurst Shifter 5 Speed
Wheels & Tires
Magnum 500 Wheels 19" Wheels
Magnum 500 Wheels 19" Wheels
BFGoodrich G-Force Tires
Front: 245/40ZR17
Rear: 275/40ZR17
Exterior
4 Coats Grabber Blue with 3 Clear Coats
Boss 429 Logo
Black 429 Hood Scoop
Side Mirrors
Rear Window Louver
Electrical
MSD Ignition 6A Control & Coil
MSD Distributor
Exhaust
Replica Boss 429 Simulated Headers Ceramic Coated
Dual 2.5″ Exhaust
Cooling
Griffin 24" Aluminum Cross Flow Radiator
Spal 16″ Electric Cooling Fan
Stereo System
Alpine Stereo Receiver w/CD Player w/4 Speakers
Rear 6x 9 MB Alpine Speakers
Front Alpine 5 ½" Alpine Speakers
Alpine 4 Channel Amplifier