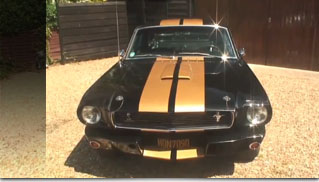 We were looking for some parts at Ebay and we stumbled upon a few cool auctions we would post here. Let's start with the first one – FORD MUSTANG 1966 GT350 SHELBY HERTZ REPLICA aka Rent-a-racer (auction id: 170640456785).
Here is the original description:
1966 Ford Mustang Fastback Shelby GT350 Hertz Recreation. 289 V8 with C4 automatic transmission. Much money and hardwork has been invested in creating this car ensuring it is as authentic to an original Hertz Shelby as possible.
The Hertz association with Shelby started in 1966 when Carroll Shelby struck a deal with The Hertz Corporation to supply approximately 1000 cars from Shelby America to the Hertz Sports Car Club. The cars could then be rented for $17 per day from numerous airports across America. These cars have since become known as the famed Rent-a-Racers. Of the cars supplied, 800 were painted in black with gold Le Mans stripes with an automatic transmission. Today, these cars are some of the most prized and valued Shelby Mustangs out there! Read more and watch the video!
My car was repainted last summer in raven black with the correct gold stripes from America. It looks stunning, drives and importantly sounds great! Runs really strong correct magnum 500s, fitted Shelby tach, belts, wheel & rear Plexiglas, correct interior etc. I had the front race apron fitted and rear bumper painted to give it a little bit more of an aggressive stance and retro look. I have the original bumper and valence with the car. I have recently updated the steering rack & pinion giving it much better handling than these cars usually have, it also benefits from period style radio with ipod/mp3 connectivity.The car comes with a full MOT & tax.
All restoration and maintenance work carried out in house by The Mustang Workshop in Hook, Hampshire.
I owned an original Hertz for many years and in my opinion this car looks & drives identical to it and is for sale at a fraction of the price of an original!
For more info or enquiries call 07967 669079
Musclevehicles.com – The Ultimate Blog for American Muscle Cars and Muscle Vehicles