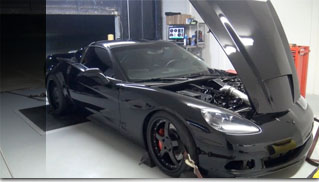 The car met Dallas Performance, a company that is some sort of an angel which makes sure that mighty four-wheeled heroes are able to play their driver-thrilling role. According to luxury4play, the aftermarket developer converted the car to twin-turbo religion and offered it the full list of benefits that come with this.
To be more specific, this Chevy was gifted with a 434cid LSX block with performance induction LS3 heads, a custom made twin turbo kit, single plane intake, TR-6060 Transmission with C6 ZO6 Differential, RC 120 injectors, as well as with a new exhaust system with B&B PRT Mufflers. Watch the video!
Of course, this level of engine modifications attracts an entire list of other goodies that allow a vehicle to cope with the extra muscle. The tuner installed a TR-6060 Transmission, a C6 differential, beefier brakes and 360 Forged carbon fiber rims with super sport tires.
Want to know just how big the Corvette got? The answer is simple and, as the adjacent video shows, was offered by a dyno run: 1,250 whp
Musclevehicles.com – The Ultimate Blog for American Muscle Cars and Muscle Vehicles